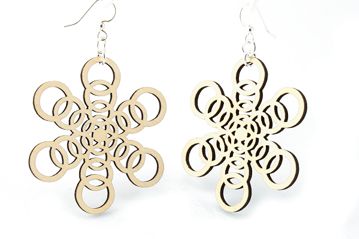 Green Tree Jewelry has some gorgeous jewelry for anyone. I was fortunate enough to review my choice of their Circle Star wooden Earrings. I chose the color tan which I believe goes with most anything I wear.
Green Tree has bracelets, earrings, necklaces, ornaments and much more. I love the wooden jewelry because it so unique and different from the regular plastic earrings. Below is some pictures of different kinds of jewelry you can also choose from:
I think this Detailed Daisy Wooden Bracelet is precious. So cute and 60ish. Another beauty is the Swallowtail Butterfly Necklace. So cute!

All Green Tree Wooden Jewelry is made from sustainably harvested wood. This eco friendly, laser cut wooden jewelry is made in San Diego, California in the U.S. I love my Circle Star Earrings and I know you will too.
Check out my review on Facebook: https://www.facebook.com/annette.anderson.980/videos/10209653524374507/
*Thanks to Green Tree Jewelry for allowing me to review for them.
*I received this product free of charge in exchange for an honest, written review.
*I was not monetarily compensated for this review.
*The opinions of this review are 100% my on.