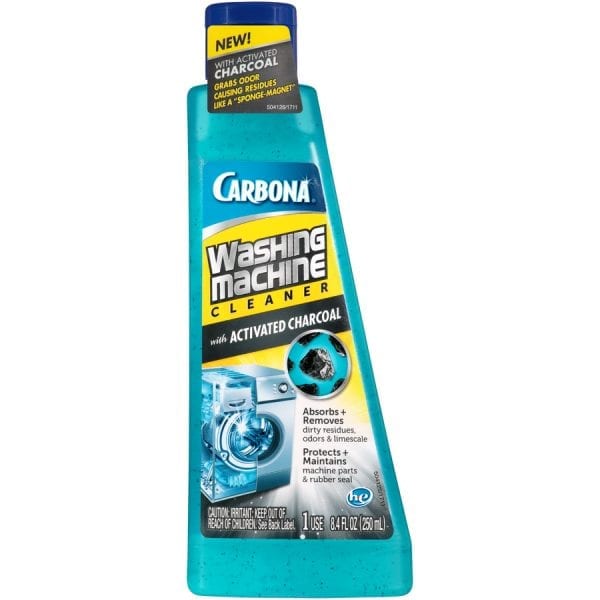 Did you know laundry detergent, fabric softener and dirt can build up in your washing machine which causes your clothes to stink? There is a product out by Carbona that you use once a month which rids your machine of all this bad stuff. The build - up of residue in the washing machine can also cause malfunctions and the longevity of the machine.
I was unaware that washing machines needed cleaning and when I was asked to try this product I was very excited to see the results.
I added a capful of Carbona, with activated charcoal, to a washing machine of water. Just operate the machine like you were washing a load of clothes. When the cycle is over the machine looks and smells super clean. I couldn't believe the difference before using the cleaner and after using it.
The activated charcoal is what attracts the bad odors and residue. The "sponge - magnet" pulls all the bad stuff out.
Carbona Washing Machine Cleaner with Activated Charcoal comes in an 8.4 oz. bottle. Use it about once a month and it works in high efficiency and standard machines. The cost of this great product is only $3.99 and it is sold in most Wal-Marts near you, Krogers, HEBs and Albertsons. To be sure if your store has Carbona products just click the product and store near you on this page.
Carbona sells very many different products such as silver cleaner, stove - top cleaner, glass cleaner and several stain removing products such as oil, blood and ink.
I was very pleased with my washing machine cleaner and the price is extra reasonable. I am very sure you would find yourself just as pleased with Carbona products too.
*I received this product free of charge in exchange for a honest, written review.
*I was not monetarily compensated for this review.
**The opinions of this product are strictly my own.
*Thanks to Carbona for allowing me to review for them.