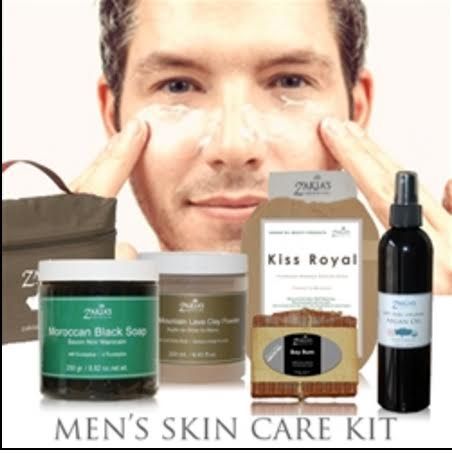 When you think of skincare you usually think of products for women right? Well, there is a marvelous company called Zakia's Morocco Men's Skinline just for men.
I received the nicest toiletry bag filled with many products for men like Shea Butter, Clay Mask Powder, Moroccon Black Soap, Beard Oil and an Exfoliating Glove. My husband was very anxious to try these products. He has been concerned about how dry and rough his skin has been looking and it seems to really be aging more and more. The first product he tried was the Black Soap.
The Black Soap is extremely rich in Vitamin E and it cleans the skin by removing dead cells and toxins. This soap leaves the skin feeling soft and silky. It will help revitalize the skin and keeps the skin from looking aged and saggy. The Black Soap lathers easily and is suitable for all skin types. My husband loves this soap. It rinses off very easily. Zakia's recommends you use an exfoliating Kessa gloves that will remove all dead skin and toxic elements from the skin.
The next product review is the Shea Butter, this butter is really hard feeling in the jar, but goes on smooth as silk. It virtually melts in your hand. This butter will help that dry, damaged skin become smooth as silk.
Another great product I reviewed was the Clay Powder. Just simply mix with water until you get that desired paste. Use it on the face and the body. This mask is perfect for re-newing the skin.
The last product I received was the Morocco Beard Oil. This oil only contains 2 ingredients- Morocco Argan Oil and JoJoBa Oil. Use after showering and your beard will look healthier and softer. This oil will nourish the beard and lessen dark spots.
I definitely recommend everything that I recieved from Zakia's Morocco Mens Skincare. The Toiletry bag is really handy for carrying all the products from Za

ki

a's . You can definitely count on these products to work.
If you would like to buy anything from Zakia's - they are offering all my readers a discount:
Discount Code: Mimilove
Entire store
25% off
*Thanks to Zakia's for working with me.
*I received this product free of charge in exchange for a honest, written review.
*I was not monetarily compensated for reviewing this product.
*The opinions of these product are strictly my own.