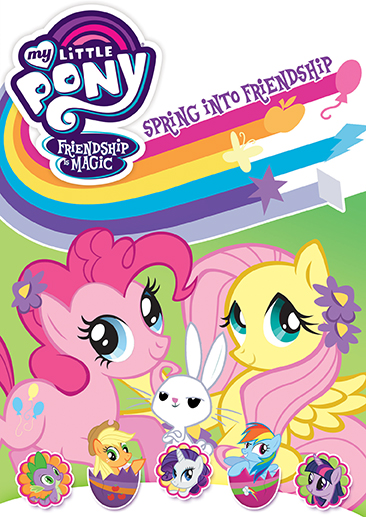 This newest movie from My Little Pony is "Friendship Is Magic- Spring Into Friendship". This movie follows a unicorn pony named Twilight Sparkle as her mentor Princess Celestia guides her to learn about friendship in the town of Ponyville.
Twilight becomes close friends with 5 other ponies : AppleJack, Rarity, Fluttershy, Rainbow Dash and Pinkie Pie. Each of these ponies represent a different facet of friendship, and Twilight discovers herself to be part of the magical artifacts known as, "Elements of Harmony."
The ponies travel on adventures and help others around Equestria while working out problems that arise out of their own friendships.
Twilight has 2 awesome tickets to share with one of her best friends, but who will it be?
The art work and colors scream FRIENDS all throughout the show. The opening theme song is, "Friendship Is Magic". There are 5 episodes on this dvd.
About these new Ponies:
AppleJack is a hard working pony who works on her family's apple farm.
Rainbow Dash is a tomboyish Pegasus pony who controls the weather.
Rarity is a glamorous unicorn with a flair for fashion design
Fluttershy is a shy and timid Pegasus pony who is fond of nature and takes care of animals
Pinkie Pie is a hyperactive Pony who loves throwing parties.
Your children will most definitely love these new ponies and the music and all the fun that can always be found with any of the My Little Pony gang!
You can purchase this dvd on Amazon.com or Shout! Kids for around $13.00 to $14.00
a Rafflecopter giveaway