Fall is in the air. Finally cooler weather, homecomings, bon fires and Halloween! Our family loves Halloween and choosing a costume is so much fun. Some want scary, and some want anything but scary. I found a great place online that has the latest characters from movies, and even some of the older characters that never go out of style like Mickey & Minnie Mouse, Barbie, Jason and the Scream mask.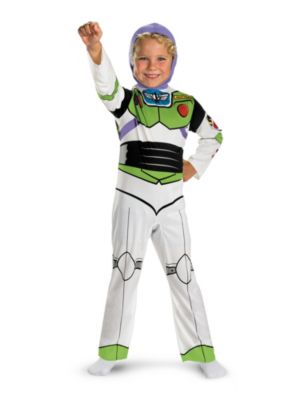 My grandson is 3 and he still loves Toy Story so we chose Buzz Lightyear. This costume is currently on sale for 20% off - it was regularly $24.99 now only $19.99! The suit comes with everything you see above. There is no need to buy anything else, but if you would like to you can purchase the Toy Story Buzz Lightyear Jetpack for only $14.99
Below is a picture of my grandson, Braxton in his Buzz suit:
Isn't he adorable? This suit comes just as described:
The top has a green control panel with a nametag that reads "Lightyear" as well as various red, green, and blue buttons. There are two purple lines on the bottom of the torso. Over the white pants, your child can wear the included shin guards, which are a matching white color with green bands along the bottom. The outfit also comes with a purple hood, which will fit snugly on your little one's head.
If a Toy Story Costume is what your young one wants to wear, then you really need to check out all the suits Costume Super Center has. There are Woody suits for toddlers, older kids and adults. There are also Jessie costumes in these sizes also.
What fun it is to find most any character your child wants to be online at Costume Super Center and they are so much cheaper than those huge warehouse costume centers. I would rather shop online because they usually have more to choose from, they are extremely cheaper and shipping is super fast. I got my costume within 3 days.
Costume Super Center has everything you need from your costumes to the decorations. Check it out---you want be disappointed.
*I received this product free of charge in exchange for a honest, written review.
*The opinions of this product are strictly my own.
*I was not monetarily compensated for this review.