Join Twilight Sparkle and her Canterlot High friends in three animated adventures!
My Little Pony: Equestria Girls (Three Movie Gift Set)
, which includes the new full-length feature film,
My Little Pony Equestria Girls: Friendship Games
, will be released on October 13
in the U.S. and Canada from Shout! Kids, in collaboration with Hasbro Studios.
With a special lenticular cover that features a transforming Twilight Sparkle, the box set houses all three films released from the My Little Pony: Equestria Girls canon, Equestria Girls, Rainbow Rocks and Friendship Games. Complete with bonus features including audio commentaries, animated shorts and deleted scenes from Friendship Games, this gift set is perfect for giving this holiday season.
When a crown is stolen from the Crystal Empire, Twilight Sparkle pursues the thief into an alternate world where she transforms into a teenage girl who must survive her biggest challenge yet…high school. With help from her new friends who remind her of Ponyville's Applejack, Rarity, Rainbow Dash, Pinkie Pie and Fluttershy, she embarks upon a quest to find the crown and change the destiny of these two parallel worlds.
Canterlot High is hosting a musical showcase and Rainbow Dash, Applejack, Pinkie Pie, Rarity, and Fluttershy are going to be performing with their new band, The Rainbooms. A new girl group, The Dazzlings, arrive at CHS and convince everyone to turn the friendly showcase into a Battle of the Bands. Tensions mount and a reformed Sunset Shimmer realizes that the Dazzlings may not be ordinary girls and are after something far more sinister. The Rainbooms call on Princess Twilight to return to their world to help them perform a musical counter-spell so that they can win a battle that now determines the fate of the entire school.
Canterlot High meets its rival school, Crystal Prep Academy, in a competition that's a long-standing tradition — the Friendship Games. Sunset Shimmer is tasked with keeping magic out of the games to avoid the appearance of impropriety while she and her friends compete against Crystal Prep's top students led by someone with an equal amount of interest in Equestrian magic — this world's Twilight Sparkle.
These 3 My Little Pony movies are so much fun to watch and my grandaughter loves this set. The box these movies come in is adorable too - it is a 3D looking box that is sure to catch any eye. This set would make a wonderful birthday or Christmas gift.
You can purchase this 3 pc set i
n stores everywhere October 13, the 3-DVD set is now available for pre-order at
Amazon.com
. My Little Pony is a big hit with all children and being able to get these 3 together is very special. You really need to check out this 3 pc set on Shout! Factory or Amazon today. Your children will love you for this.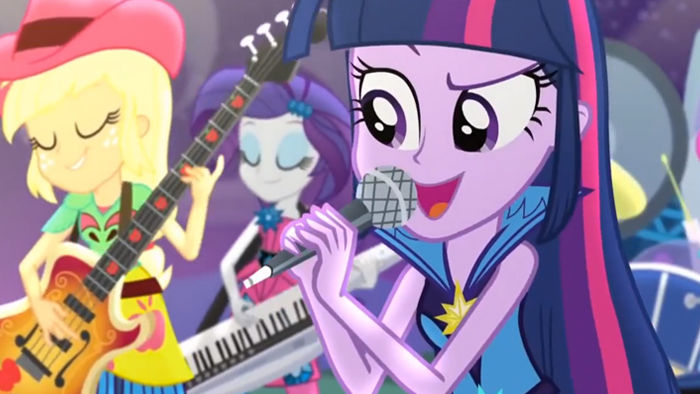 *I received this product in exchange for a honest, written review.
*The opinions of this product are strictly my own.
* I was not monetarily compensated for this review.