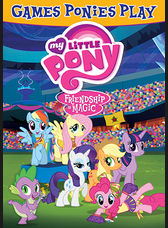 All the ponies in Equestria decide to test different competitions for a game day. Join Twilight Sparkle, Applejack, Pinkie Pie, Rarity, Rainbow Dash and Fluttershy as they prepare 6 awesome games that will teach good sportsmanship through the magic of friendship.
Watch a clip below from this delightful My Little Pony movie:
So if you are wondering who the best pony athlete is then you will have to watch and see. Will Spike be able to build up the courage to light the ceremonial Equestria Games torch? But, the fact is none of it matters who wins or not because everyone is a winner in Equestria and friendship is all that matters.
There are 6 episodes on this- in color, one disc - dvd. Your children are sure to love this movie. Mine have watched it over and over. Nothing is much cuter than a My LittlePony and there are several in this movie.
It will arrive September 29, 2015 in the U.S. and Canada from Shout! Kids in collaboration with Hasbro Studios, so check it out and buy your copy then.
If you would like to try and win a copy of Games Ponies Play, then enter my Rafflecopter below because there will be 2 winners!!!! Good Luck!
a Rafflecopter giveaway