Community Coffee has been putting out the best tasting, highest quality coffee for 95 years. This stands true from the time the beans are planted until the beans are roasted and ready for drinking.
I was sent a goodie box from Community Coffee to review in my Keurig. These little K-cups are awesome and I love the taste. I was lucky enough to try the Mocha Vanilla Iced Coffee. It tastes so wonderful. I love this new Iced Coffee taste. It is great for drinking in the summer time, because this Iced Coffee refreshes you. I love my Kuerig and it is so convenient to use. The Mocha Iced Coffee tastes so delicious coming from it.
Check out the video below on how to brew this drink:

I also reviewed the Breakfast Blend Coffee, it tasted so smooth and delicious. Very fresh first thing in the morning! Oh - and the aroma ---aww!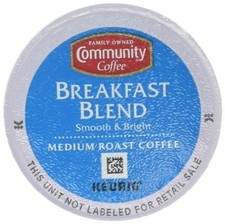 These K- Cup Pods usually run you about $12 for 18, less than a dollar a day for a cup of coffee, and not just any coffee - Community Coffee!
You can order these two delicious products through the mail from their online website or buy at most every grocery store across the US. Check out all the varieties of coffee and teas on the website and also the gift baskets and extras like mugs and such. I love both of these tastes and now I am ready to go out and buy their new Mardi Gras blend!
Give Community Coffee a try- I know you won't be disappointed and Enjoy!
*I received these products free of charge in exchange for a honest, written review.
*I was not monetarily compensated for this review.
The opinions of this product are strictly my own.