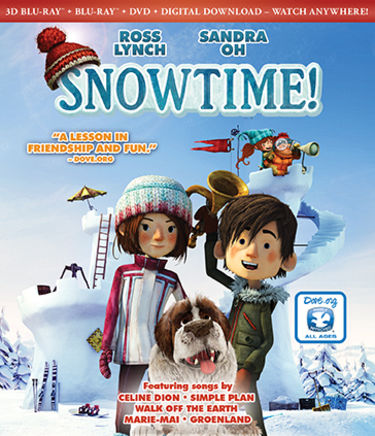 With children, what starts out to be a fun rivalry can quickly turn into a battle. This is exactly what happened to 11 year old's - Sophie and Luke - in the movie, "Snowtime". When winter came, so did tons of snow and kids having to stay inside. This was the day the local kids decided to built a fort and have a competition with whomever was still standing in the end, as the winner. Sophie chose her team and Luke chose his. Sophie and her team built the most beautiful fort and Luke and his crew try to destroy it. What started out being fun ended up becoming the most difficult idea the kids had.
Watch the trailer below for a cute glimpse into the movie:
I loved this cute movie. With everyone fighting, in the end you can see some hid how well they really did like each other. The music in this movie is amazing, some songs are sung by the awesome Ms. Celine Dion. You will laugh, get angry and want to cry with the little guys in this movie. It is a good movie that teaches children how quick we can all start out acting good and when something goes wrong we can easily become mad at those we really care about.
In the end of the movie, all is well and friends are friends again and the kids decide to take the vengeance out of the last bit of remaining fort, instead of on each other.
This movie stars: Sandra Oh (Gray's Anatomy), Ross Lynch (Austin & Ally) It runs 82 minutes on 2 discs. You can purchase this movie from Shout! Kids Factory.
a Rafflecopter giveaway