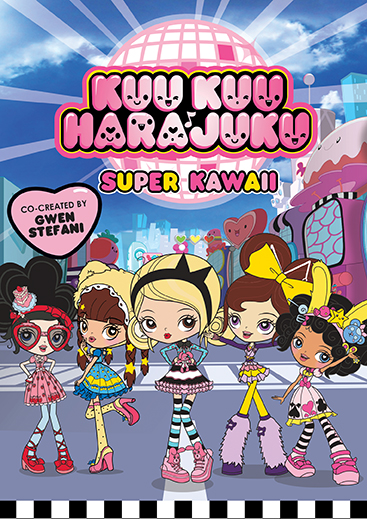 Gwen Stefani's band HJ5 consisting of Love, Angel, Music, Baby and G are at it again. This animated band shows the world how super cute they are in music, fashion and style. This series is inspired by the wonderfully talented Gwen Stefani who hopes her series will help youth develop self - expression, imagination and individuality. Here is round 2 titled - "Kuu Kuu Harajuku - Super Kawaii" due in stores Sept. 26, 2017.
In this second installment there is another 12 episodes just like there was in season 1.
These 5 girls have 12 more hard rocking tales as they travel all over the world. With the help of their manager, Rudie, the girls get into some crazy adventures that tries to keep the band from their gigs.
You can check out the soundtrack to this darling series @ itunes.com This TV series is full of songs and there are 5 new songs on this second set.
What a cute, adorable little band HJ5 is! Your children are sure to love the shows and the music this darling series gives you. If you would like to try and win a copy, Shout Factory is giving 2 of my lucky readers a DVD of Kuu Kuu Harajuku - Super Kawaii. Good Luck!
a Rafflecopter giveaway