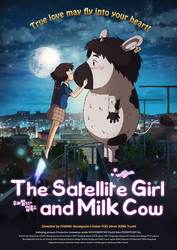 "The Satellite Girl and Milk Cow" is an anime film from South Korea. In this different, but oddly interesting movie, a satellite falls from the sky and becomes a girl. With the help of Merlin, the wizard, who has become a roll of toilet paper, a young boy who plays the piano, is turned into a milk cow. Satellite Girl comes complete with Astro - Boy like shoes and weapon - firing limbs. As she descends to Earth, Satellite Girl hears a sad love song and she begins the search for the person who shows such sincere emotions.
Milk Cow and Satellite Girl have to fight off the incinerator monster and the pig witch. Secret agents begin searching heartless people and these two end up being drawn closer to each other.
Watch the trailer below to get a preview of this movie :
This movie is funny and loving at the same time. My grandson loves this type of movie, but I have a hard time, as a grandmother, getting the complete meaning. But, cartoons are different today than they were in my days. Animation is amazing in this movie and the creativeness is awesome.
If your child likes these kind of movies then I suggest you enter to try and win a copy of "The Satellite Girl and Milk Cow" . Good Luck!
This movie is 1 hr. and 21 minutes long and has Bonus features:
Coffee Vending Machine And Its Sword Short Film
This movie will be released June 5 in the US and Canada.
a Rafflecopter giveaway