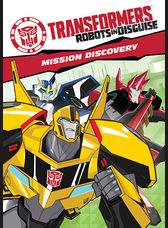 The evil band of Decepticon prisoners have escaped and hidden somewhere on Earth and in this new DVD Transformers Robots in Disguise - "Mission Discovery" the people of Earth are in need of their heroes the Transformers. These guys:Bumblebee, Strongarm, Sideswipe and Grimlock and their human allies Denny and Russell are ready to go to catch these terrible prisoners before they destroy lives.
Watch a clip from this movie below:
There are 5 episodes on this one DVD and a special featurette : Toy Featurette
The entire movie runs 110 minutes and is in color and in English.
My boys love this movie. Anyone of the Transformer movies that feature Bumblebee is their favorites. This is thier favoriteTransformer. I would recommend this DVD to any kids who like the Transformers. You will not be disapointed.
You can purchase this movie on Amazon, in WalMart and in some video stores.
*I received this product free of charge in exchange for a honest, written review.
*I was not monetarily compensated for this review.
*The opinions of this product are strictly my own.
*Thanks to Shout! Kids Factory


a Rafflecopter giveaway