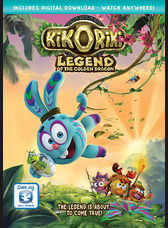 Shout!Kids Factory has graciously allowed me to review another children's movie just in. time for Easter. "KikoRiki - Legend of the Golden Dragon". This an adorable cartoon movie is coming to North America March 7, 2017
The lovable simple residents of peaceful Kikoriki Island get involved with their resident scientist. The scientist invents a device - a helmet called the Improviser. This machine takes personalities and swaps them with others.
Willy is really spineless and wants to tougher, he uses the helmet, but accidentally gets switched with a caterpillar which makes him more spineless. Now he is more scared and fears things more than before.
Watch the clip below for this cute movie:
Others begin to switch places with others which leads to chaos. Plane crashes, mistaken identities, erupting volcanoes and angry natives on the warpath.
The Kikoriki Crew is so messed up and they wish they could be anyone else right now.
That helmet has everything and everyone worse than they were before it was invented. Watch as the Kikoriki Crew try to fix this whole mess. Here are a few of the wacky characters.
If you would like to try and win a copy of this movie please enter my Rafflecopter below. Thanks and Good Luck!
a Rafflecopter giveaway