The Ozeri Touch Digital Bath Scale is amazing. This scale measures weight and calculates body fat, muscle mass and bone mass. It features adult, infant and pet weight. This awesome looking touch scale can also tell hydration and body measurement.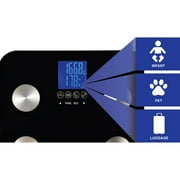 This scale will store up to 8 profiles. It will store all their gender, weight, height and age data. This way it is easy for family members to check on their information. The numbers are easy to read on the high - contrast LCD screen.
This scale makes it easy to weigh your infant or pet. Just step on the scale and get your weight, then step on holding the other object. Subtract your weight from the double body weight and you will get the other object's weight.
The batteries will last quite a long while because this scale turns off automatically when not in use. It uses 2 Lithium batteries (included).
You can weigh up to 440 lbs. on this scale. The glass used on this scale is impact resistant tempered glass and is 4 times stronger than most glass. It also comes with a 2 year warranty.
I must say this scale is very pretty, I reviewed the black one and it goes with everything. It also comes in white. I am not a friend of weighing myself, but I really need this scale to help my body be healthy like it should be. I need to know when I am dehydrated too and this scale is smart enough to let me know everything you need to know to stay healthy.
I definitely recommend this Ozeri Touch Digital Scale. Like all Ozeri products, it works and the cost is very reasonable. You can purchase it from Amazon, Wal-Mart, Target and other bath products store.
* I received this product free of charge in exchange for a honest, written review.
*I was not monetarily compensated for this review.
*The opinions of this review are strictly my own.
*Thanks to Ozeri for allowing me to review for them.