"P. King Duckling" and his pals are coming to town! They will be hitting the US and Canada on Sept. 12th. This series - "Seize The Day" contains 7 episodes from Season 1 and it also contains an Activity Book. You can pre-order your copy of this DVD now from Amazon and ShoutFactory.
"P.King Duckling "satisfies the family in learning skills, with problem - solving and creative thinking all while having fun with P. King and his pals. Created by Josh Selig (Sesame Street, Wonder Pets) and James Chen Gu , general manager of UYoung Animation, This show is being broadcast in the U. S on Disney Jr. , which have turned out exceptionally high ratings.
With the pre-school curriculmn being created by media specialist, Dr. Christine Ricci, (Dora the Explorer) that centers on overcoming challenges and creative thinking.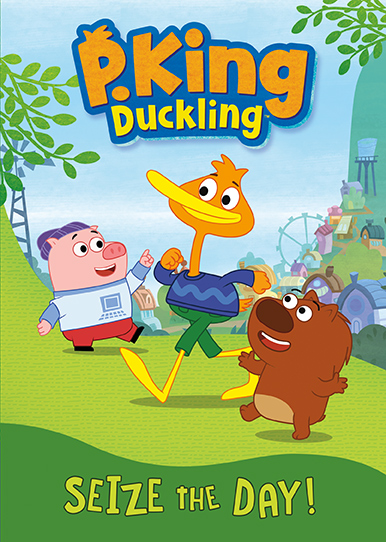 P. King is a young duck with 2 best friends, Chumpkins (a sarcastic pig) and Wombat -who helps P. King with his wild schemes. Together these 3 strive to "seize the day" from all their wild adventures.
P. King is a dreamer who has lots of dreams, but the dreams change every day. One day he may be an astronaut, the next day a magician and then even a race car driver, but through it all he encourages children to dream big and to follow their dreams.
P. King Duckling is all about arts, crafts, creativity and construction. Laughs and learning go hand and hand with these 3 friends. Your child will love this fun and learn to dream and become a doer.
You can pre-order this 1 Disc DVD from Shout Factory now for only $13.93 or try to win a copy from my Rafflecopter below. You and your child will have so much fun with this newest gang of creative friends. My child loves it! So, come on enter below and Good Luck!
a Rafflecopter giveaway