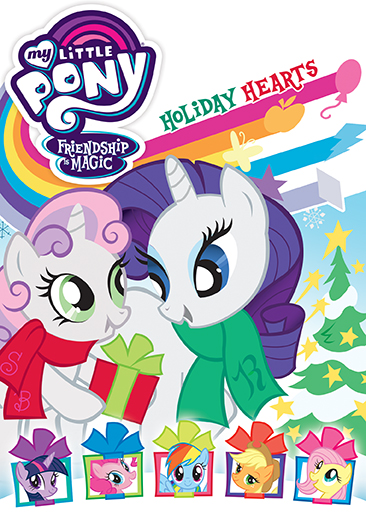 It's almost here - a child's happiest day of the year - Christmas! Nothing goes as good under the tree to be opened on Christmas morn as another perfect Holiday movie by "My Little Pony Friendship Magic - Holiday Hearts"
This newest pony movie will take you on 6 exciting holiday magic trips in Equstria.
Join Twilight Sparkle, Spike, Pinkie Pie, Applejack, Rainbow Dash, Rarity and Fluttershy on festive holiday adventures.
With this movie you will get pony gift tags and Bonus Sing-A Longs.
Here are the names of the 6 adventures:
1.AppleBuck Season
2.Winter Wrap Up
3.Castle Sweet Castle
4.Heartbreakers
5.A Hearth's Warming Tail
6. Not Asking For Trouble
Gather your family around for 6 hearth warming tales. They will definitely love this Holiday filled with little ponies and their adventures.
I love the My Little Ponies movies and this will be a good one to watch with your family or even to give as a gift for the holidays!
Enter my Rafflecopter and tell all your friends to check out all the upcoming Gifts on my Holiday Gift Guide. Good Luck!
a Rafflecopter giveaway