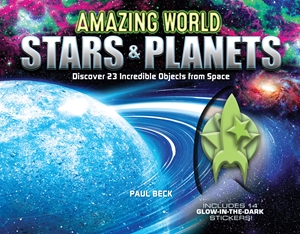 I received this amazing book for review. The Amazing World Stars & Planets is just perfect for any person, or child, that is interested in Space and the Planets. It is perfect for those who homeschool and it comes with Glow In the Dark stickable stars for your notebook or ceiling.
This book is the perfect gift for learning about the explosive lives in our celestial bodies of outer space.
There are glowing green clouds and spiral galaxies. The pictures of each planet are bright and enjoyable to look at. You will learn about the stars, planets and much more on each page. Learn how a star is born and why it dies. There is so much information throughout this book. It is truly a wonderful book to learn from.
The glow in the dark stars are stickable and will light up ceilings in a room or wherever you stick them. I absolutely recommend this book for learning.
* I received this book free of charge in exchange for a honest, written review.
*I was not monetarily compensated for this product review.
*The opinions of this book are strictly my own.
*Thanks to Becker & Meyer for allowing me to review this book.