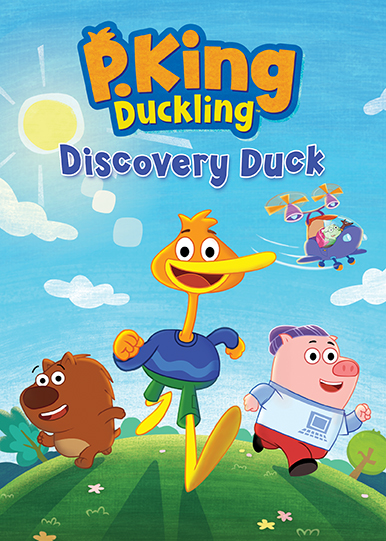 P. King Duckling is in Discovery Duck with both his 2 friends, Chumpkins, the tech - savvy pig, and Wombat who is smart and sensitive. P. King travels the globe in search of excitement and fun with both of his friends. These guys love to travel in the Hilly - copter as they explore.
P. King thinks he is the smartest, handsomest duck around Hilly Hole and boy! does he have big dreams. He imagines himself being a variety of people.
All 3 friends get into lots of trouble along the way in Discovery Duck, but in the end everything works out wonderful!
Watch a clip from this P. King Duckling Discovery Duck movie:
You can watch the series of P. King Duckling and friends on Disney Jr. everyday. (Where it is shown)
This video is on 1 disc and runs for 132 minutes. This dvd contains 6 episodes from season 1, and 4 fun - music videos. My children love P. King! He is so funny and the messes he gets into are so funny. I know your child will love P. King as much as mine do!
Pre-order your copy today from Amazon. com and Shout! Kids Factory. It isn't due out before Dec. 12th without pre - order.
If you would like to try and win this DVD please enter my Rafflecopter below. There will be 3 Lucky Winners! Good Luck!
a Rafflecopter giveaway