Would you like to have help with planning good, healthy meals for your family for 2 weeks? This plan is called eMeals. I was allowed to review for this awesome company and the meals listed were amazing! These plans include a list of what to buy and how much you would need to make these meals. Here is an example of my meal plans:
Meal 1 Super Easy Chicken Nachos with White Queso Watermelon, Blueberry, and Jalapeño Salad Prep Cook Total 20m 10m 30m Nutritional Information Main Side Total Servings 6 6 Calories 423 47 470 Fat (g) 25 0 25 Sat. Fat (g) 9 0 9 Protein (g) 23 1 24 Carb (g) 28 12 40 Fiber (g) 3 1 4 Sodium (mg) 869 2 871 1 (6-oz) pkg multigrain tortilla chips 1 cup mild white cheese dip (such as Ole) 2 cups shredded rotisserie chicken, heated (without skin) 1 cup refrigerated salsa ½ cup chopped red onion 1 avocado, sliced ½ cup crumbled queso fresco cheese ½ cup chopped fresh cilantro 1 lime, cut into wedges (optional) --------------------------------------------------------------------------------- 1 (16-oz) container cubed watermelon 1 (4.4-oz) pkg blueberries 1 jalapeño pepper, seeded and minced ¼ cup chopped fresh cilantro 2 Tbsp fresh lime juice 1 Tbsp honey Preheat oven to 400°F. Spread chips on a parchment paper-lined large baking sheet. Bake 5 to 8 minutes or until thoroughly heated and lightly toasted. Meanwhile, heat cheese dip according to package directions for microwaving. Top chips with chicken, cheese dip, salsa, onion, avocado, queso fresco, and cilantro. Serve with lime wedges, if desired. --------------------------------------------------------------------------------- Toss together all ingredients in a large bowl.
Grocery Items to Purchase
1 1 (16-oz) container cubed watermelon 1 1 (4.4-oz) pkg blueberries 1 1 avocado 1 1 jalapeño pepper 1 ½ (8-oz) pkg chopped red onions 1,2 3 limes 1,2 1 bunch fresh cilantro 2 ½ (10-oz) pkg matchstick-cut carrots 2 2 heads Bibb lettuce 2 2 (10-oz) pkg mango slices 2,6 2 (1-oz) pkg fresh basil 3 1 (12-oz) pkg sliced bell pepper and onion medley 3,4 4 pints multicolored grape tomatoes 4 1 lemon
The way this meal planning works is very easy you just need to follow 3 easy steps:
Our weekly meal plans offer variety and flexibility allowing you to pick the recipes that best fit your needs that week.
Select the meals you want for the week, and our app will do the rest for you. Add your odds and ends for the week and you are all set!
Getting dinner on the table has never been easier. Delicious, homecooked meals the whole family will love.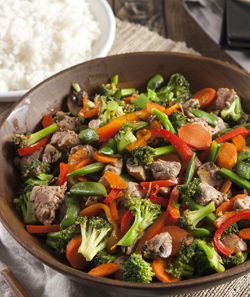 With eMeals you can choose all kinds of meals such as: Kid Friendly Meals, Slow Cooker Meals, 30 Minute Meals, Budget Friendly Meals, Diabetic, Vegan Meals and many others. Just choose which one fits your family's needs and if you feel the need to change it, that will be o.k too.
eMeals have been praised by many people who have tried and loved this service. They have been mentioned on Southern Living, Fox, CBS, ABC and NBC.
Take the sweat out of meal planning by letting eMeals take care of everything except the cooking, which you will do, but with so much more ease and time.
I have used several of their meal plans and the food is delicious and having eMeals prepare my grocery list for me was the best part! I didn't forget anything because it was all right there for me to get.
eMeals would like to offer one of my lucky readers a 2 week free eMeal plan for your family free by just entering my Rafflecopter below.
a Rafflecopter giveaway